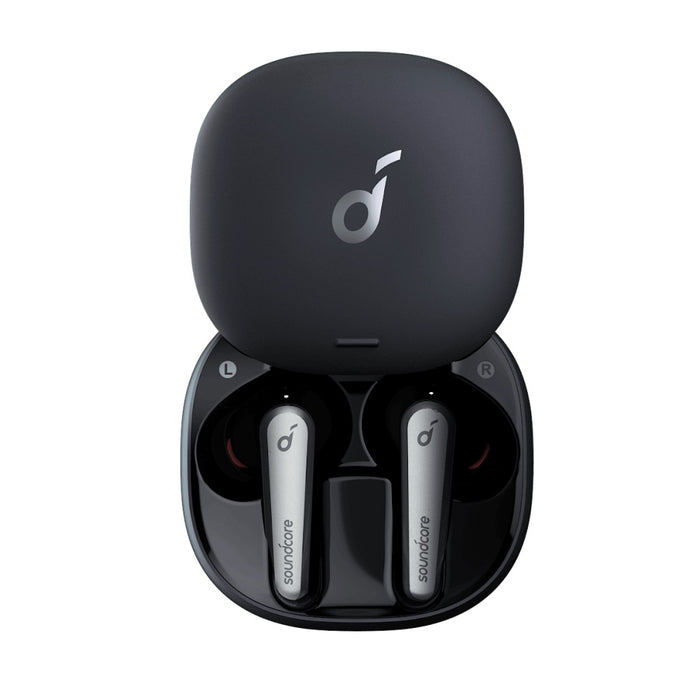 Liberty Air 2 Pro Noise Cancelling Earbuds - Soundcore
Sold out
Original price
LE 2,199.00
Original price
LE 2,199.00
-
Original price
LE 2,199.00
Original price
LE 2,199.00
Current price
LE 1,999.00
LE 1,999.00
-
LE 1,999.00
Current price
LE 1,999.00
Specifications:
Best ANC True Wireless Earbuds in 2021.
Clean Audio with Targeted Active Noise Cancellation: Choose your scenario via the Soundcore app and enjoy as surrounding sounds disappear, leaving you with nothing but pure sound.
PureNote™ Driver Technology: Get 45% more bass boost and 30% more bandwidth than regular drivers. The drives are encased in 10 solid nano-layers that provide incredible rigidity to generate incredible precision and clarity.
HearID Personalized EQ: To ensure an optimal listening experience, HearID intelligently analyzes your unique hearing preferences and intelligently creates an audio setting customized just for your ears. Or take full control of your audio with adjustable EQ or 22 preset audio files.
Up to 26 hours of playback time: Get 7 hours of playback on a single charge on the earbuds with up to 3 recharges from the charging case.
Clear calls: 6 noise-cancelling microphones with noise reduction ensure your voice is isolated and transmitted with high clarity for a face-to-face experience.
Crystal clear. Literally: To ensure the most accurate and intense sound, the Liberty Air 2 Pro's drivers are coated with 10 hard nanoparticles. This added stiffness gives your music 45% more bass and 30% more bandwidth, all without sacrificing clarity and definition.
Transport Mode has been optimized to target the roar of engines, traffic, and public transportation. Reducing noise by up to 90% during your commute can increase the likelihood of it happening by 100%.
Outdoor mode targets low and mid-frequency sounds to keep the city quiet while staying safe around traffic and other hazards.
When you are in a coffee shop or office, it will target the internal situation and cancel out human voices and conversations. All without the distinctive ear pressure of noise canceling.
Up to 7 hours playtime: 1 hour of listening per day for a week, all without recharging
26 hours of runtime with charging case: Get approximately 3 full charges from the matchbox-sized charging case.
USB-C Fast Charging: Charge for 15 minutes for 3 hours of USB-C listening.
Wireless Charging: Place the charging case on any Qi-certified wireless charger for hassle-free power.
The Liberty Air 2 Pro is ergonomically designed to perfectly fit all ears. Choose from nine pairs of ultra-soft silicone ear tips for optimal sound and noise cancellation performance. From now on, it's just you, the music, and there are no ear vibrations that remind you to wear the earphones.
HearID app: Install this app and then set your unique listening profile and create custom EQ settings. A fully customized acoustic signature ensures a universally perfect listening experience.
Personalizing audio profiles Take full control of the equalizer to customize the sound exactly the way you want it, or choose from 22 pre-programmed settings to make your music shine.
Toggle Transparency: If there's something more important than your music to listen to, do
toggles transparency across the application.
Product Contents
Liberty Air 2 Pro Headphones
Wireless Charging Case
9 ear tips in these sizes: XXXS / XXS / XS / S / M / M + / L / L + / XL
Fast USB-C Cable
Technical Specifications
| | |
| --- | --- |
| Voice | Clear audio and noise cancellation with PureNote™ drivers |
| Playback time on a single charge | 7 hours |
| Total playback time with speaker case | 26 hours |
| Fast Charging | Charge for 15 minutes, listen for 3 hours |
| Using one earbud | Availability for both headphones |
| Calls | 6 microphones with transmission noise reduction |
| Other Features | HearID Personalized Voice to Distinguish Your Voice, Wireless Charging, Touch Control |
| Uses | commuter, travel, exercise, work calls |